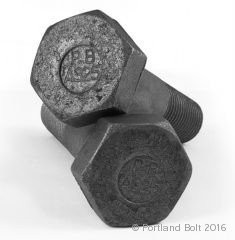 ASTM A325 heavy hex structural bolts may be specified in three different types, one of which is no longer available, or as "T" or "M". Although there is no difference in regards to the mechanical properties, there are distinct differences between them. In addition to the A325 types, there are three different connection types that may be specified, which do not affect the configuration of the part, but are specific to the application.
Type 1 – Medium carbon, carbon boron, or medium carbon alloy steel which undergoes a heat treating operation to achieve the desired mechanical properties. Type 1 is most commonly specified and is likely most readily available in the marketplace. The head is a heavy hex pattern and these bolts will have a set thread length based on the diameter required.
Type 2 – This type was withdrawn in November of 1991.
Type 3 – Weathering steel, quenched and tempered. Although the strength is the same as  Type 1, Type 3 bolts are made from weathering steel which contains copper, chromium and nickel. This forms an oxide coating which protects the base material from corroding.
A325T – Fully threaded A325. A325T bolts are available up to four times the diameter in length. A325s longer that this will need to be specially made per ASTM F3125 Grade A325.
A325M – Metric sized A325s.
Connection Types
SC – Slip critical connection.
N – Bearing type connection where the threads of the bolt are included in the shear plane.
X – Bearing type connection where the threads of the bolt are not included in the shear plane.
ASTM F3125
ASTM F3125 is a specification covering the chemical, physical and mechanical requirements for structural bolts and will eventually replace all six ASTM structural bolt standards, including A325. This specification allows for A325s to have alternative head configurations as well as longer than standard thread lengths, with the appropriate head marking, "A325S".