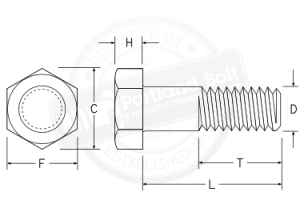 ASTM A325 structural bolts are designed for steel to steel connections. Because they are used in such a specific application, they have dimensional characteristics that are unique and limited compared to most other fastener grades. This includes stock sizes available in the market place, length tolerances, short thread lengths, and the actual head dimensions are the same as any heavy hex head bolt (Dimensions per ASME B18.2.6 2011).
Available Sizes
Although technically any size A325 can be custom manufactured, there are certain restrictions as well as common lengths which are more readily available in the marketplace. Depending on the diameter, there may be longer lengths available.
| | |
| --- | --- |
| Diameters Allowed: | 1/2″ – 1-1/2″ |
| Available Lengths: | Up to 6″ – 10″ maximum (depending on diameter) |
| Available  Finish: | Plain Finish or Hot Dip Galvanized |
| Origin: | Import or Domestic |
Bolt Length Tolerances
Nominal Length, in.
Nominal Size, in.
1⁄2
5⁄8
3⁄4 thru 1
11⁄8 thru 11⁄2
Thru 6 in.
-0.12
-0.12
-0.19
-0.25
Over 6 in.
-0.19
-0.25
-0.25
-0.25
Structural Bolt Dimensions
Although the head dimensions for structural bolts are the same as any heavy hex headed fastener per ASME B18.2.6 2011, A325 heavy hex bolts have a shorter thread length than most other construction fastener grades.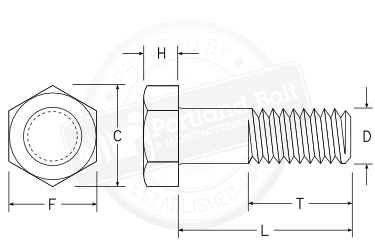 Bolt Diameter
D
F
C
H
T
Body Diameter
Width Across Flats
Width Across Corners
Height
Thread Length
Max
Basic
Max
Min
Max
Min
Basic
Max
Min
Basic
1⁄2
0.515
7⁄8
0.875
0.850
1.010
0.969
5⁄16
0.323
0.302
1.00
5⁄8
0.642
11⁄16
1.062
1.031
1.227
1.175
25⁄64
0.403
0.378
1.25
3⁄4
0.768
11⁄4
1.250
1.212
1.443
1.383
15⁄32
0.483
0.455
1.38
7⁄8
0.895
17⁄16
1.438
1.394
1.660
1.589
35⁄64
0.563
0.531
1.50
1
1.022
15⁄8
1.625
1.575
1.876
1.796
39⁄64
0.627
0.591
1.75
11⁄8
1.149
113⁄16
1.812
1.756
2.093
2.002
11⁄16
0.718
0.658
2.00
11⁄4
1.277
2
2.00
1.938
2.309
2.209
25⁄32
0.813
0.749
2.00
13⁄8
1.404
23⁄16
2.188
2.119
2.526
2.416
27⁄32
0.878
0.810
2.25
11⁄2
1.531
23⁄8
2.375
2.300
2.742
2.622
15⁄16
0.974
0.902
2.25

Dimensions per ASME B18.2.6 2011